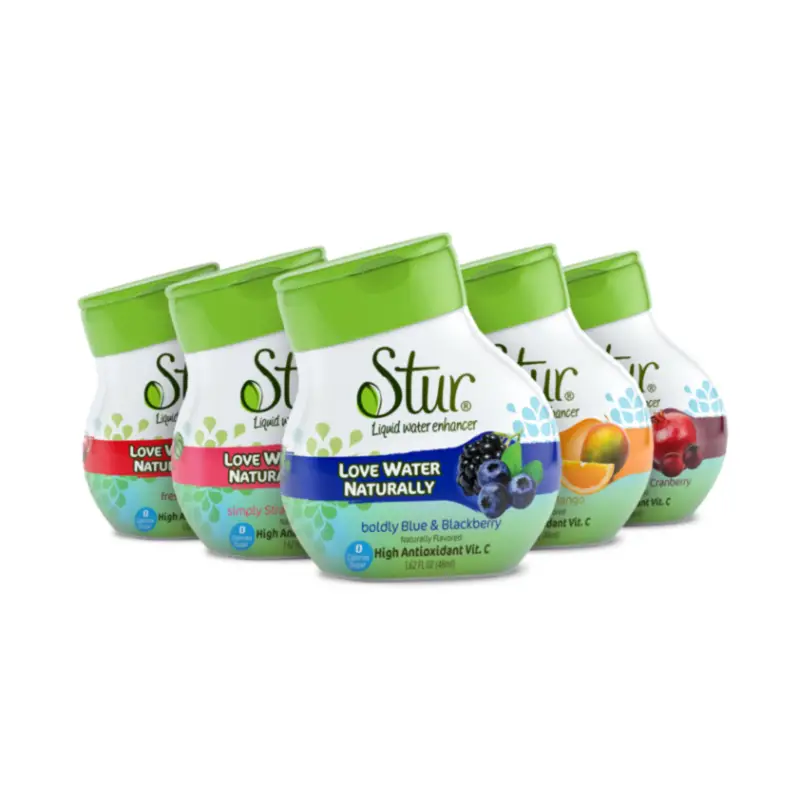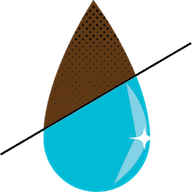 Reviewed by: Water Purification Guide
OVERVIEW
---
Category Water Enhancer
---
Make Stur
---
Flavours 12
---
Product Type Liquid Water Enhancer
---
Significance Healthy Lifestyle
---
The U.S. Institute of Medicine recommends at least eight glasses of water a day. Water Enhancers can help you achieve that target and much more.
Stur is an 'All Natural' water enhancer. It is available in different Flavors. Stur is made with fruit and Stevia leaf extracts, giving Stur water a delicious sweet taste. It doesn't contain any sugar or calories. Stur is free from all artificial flavors, colors, and sweeteners.
Stur makes your drinking water healthier and tastier. It is one of the best organic water enhancers out there. It has the qualities which will make you fall in love with the habit of drinking water in an all-new way.
Apart from making 'drinking water' a lot more fun, Stur has added health benefits as well.
It is enhanced with Vitamin C. This acts as a supplemental boost.
The stur liquid doesn't contain any sugar or calories.
Stevia, which is the natural compound sweetener in Stur, is FDA approved. 
In this review, we'll discuss everything you need to know about STUR Water Enhancers. Features, benefits, contents, nutrients, pros and cons.
Let's look at some of the other essential attributes of the Stur Water Enhancer.
Features
No Artificial Sweeteners:
The added sweeteners in Stur are all-natural and organic ingredients. As already mentioned, Stevia extract is the chief sweetener in the stur product.
Stur does not use artificial or chemical sweeteners (such as sucralose, aspartame, etc) which are otherwise really common in other water enhancers and bottled beverages.
Caffeinated Options:
Most of the Stur products are caffeine-free.
If you want to have caffeine in your drinks, you can go for the Stur Energy Flavors (Amazon link). The Stur Energy flavors are the only ones that have caffeine in them. You will get approximately 45 mg of organic caffeine per serving if you opt for the energy flavors.
All other Stur products are caffeine-free.
Organic and Natural:
Stur is the drink mix for consumers looking for a water enhancer with all-natural ingredients.
Stur is quite adamant and sincere when it comes to uplifting its 'organic' status. The flavor in Stur is added through natural fruit flavors and natural sweeteners.
Different fruit and vegetable juices are used in Stur as 'coloring agents'. Stur avoids artificial chemical flavors or colors such as Yellow Lake 5, Blue 1, Red 40 etc.
Flavors
All these flavors can be ordered directly from Amazon:
There are 9 ORIGINAL Stur water enhancer flavors.
Stur SKINNY water enhancers come in 2 great flavors. They are rich in fiber and helps control hunger:
There is one Stur ENERGY water enhancer flavor. This is the ONLY caffeinated flavor variety.
What is Stur water enhancer sweetened with?
Stur uses Stevia leaf extract as an organic sweetener.
Stevia leaf extract comes from the Stevia plant, which originates in South America (also found in Asia). Extract from this plant is used as a sweetener to introduce a sweet taste to your beverage.  The stevia-based sweetener helps one to avoid calories in their favorite foods and beverages.
There are many ways to extract stevia from the leaves.
One common method is using methanol and other chemicals to extract stevia. Stur doesn't use this method of stevia extraction as this involves the use of chemicals. Rather Stur uses a more organic technique of stevia extraction.
Here Stevia leaves are gently soaked in heated warm water to extract the stevia. This method is a little expensive, but totally worth it. It makes the taste a lot better.
Stevia is recognized as safe by the Food and Drug Administration (FDA) for the general population, including pregnant women and children. It is always recommended to consult your physician if you have any concerns with your medications or allergies.
How to use Stur?
Flip open the cap.
Pour the packet directly into your water.
Squeeze for 1-second per serving in 8 oz. (1 cup) of water (squeeze longer to add more flavor).
Typically, 4 squirts of stur are added to around 33.8 oz. (1 liter) of water.
Each bottle of Stur will give you numerous servings of nutritious water.
Benefits of Stur
No Sugar Beverage:
Stur is a Zero sugar, Zero calorie beverage. It can be an excellent beverage option for people who are concerned about too much sugar in their diet. Drinking plenty of water may also help in weight loss.
Sweet and tasty water is an added incentive that will enhance your drinking water habit. The sweetness doesn't come with attached negative attributes such as sugar and calories.
It is recommended that you consult your physician or registered dietitian on how best you can complement Stur based beverages in your diet meal plan.
Diabetic Friendly:
The Stur liquid water enhancers can be excellent option for people living with diabetes. All Stur flavors contain NO sugar.
Again, consultation with your physician is recommended to inculcate the Stur beverages in your diet for the best outcomes.
Keto Friendly:
Stur is Keto Friendly. Stur contains about only 1 carbohydrate per serving. For instance, the Stur Strawberry Watermelon has 1g of net carbs per 240 ml serving.
Vegan Friendly:
Stur is a plant based product and is definitely Vegan friendly.
Pro's and Cons of STUR Water Enhancer
Pros
✔ All Natural Content: Stur does not use any artificial ingredients such as sucralose or yellow and blue dyes that some people may be allergic to.
✔ Affordability: This is quite affordable. Comes in single packs as well as in packs of 5 and 10. Different flavors of Stur have different prices. Also, prices might differ based on which platform you are looking at. For instance, Walmart might give you a different price than Amazon.
✔ Healthy and Tasty: The Vitamin C induced high antioxidant levels is beneficial for your health. And this is complemented with great news for your taste buds as well. The healthy with tasty feature makes Stur all too attractive.
✔ High number of drinks per Bottle: Stur says that you can make 20 drinks per bottle. So if you buy a pack of 10 you can make 200 drinks from it. If you buy a pack of 5, you can make 100 drinks.
✔ Multiple Flavors: There are diverse flavors. All are equally tasty. The Favors include Fruit Punch, Strawberry Watermelon, Blue & Blackberry, Orange Mango, Pomegranate Cranberry, Skinny Black Cherry, Peach, Grape Acai and Coconut Pineapple. Stur skinny flavors include Black berry and citrus which are rich in fibre and helps control hunger.
Cons
✖ Might need time to adapt to the sweet taste (after all it's not 'sugar' sweet): The Stevia induced sweetness can sometimes become overwhelming if you are overusing it. Here, moderation is the key. Also, you must make sure to serve your beverage cool for the best taste.
✖ Early Expiry:  Stur expires after 30 days after opening the bottle. It is indicated by the 'best-by' date on the pack.
FAQS
Is it safe for children to drink stur?
It is always best to check with your children's paediatrician for medical advice, but the ingredients in Stur flavors are recognized as safe for the general population, that includes children and pregnant women.
Stur Energy and Stur Skinny products however are only meant to be consumed by adults. These specific products are not to be consumed by children, nursing or pregnant women.
Can you recycle the Stur bottle?
Yes, Stur bottles are designed in a recyclable manner.
In what countries is Stur available?
Stur is available in the United States, and the UK.
Recently, Stur became available in Canada as well.
Why can't I find my Stur powder anymore?
Stur is discontinuing the powdered versions. It's planning to stick to liquid flavors only.
You can still buy the powdered Stur drink mixes here on Amazon, but you may have to check if your favorite flavor is available.
Stur does have a good range of hydration powder full of electrolytes and antioxidants.
Conclusion
Water is essential to a healthy life. To that end, Stur Water Enhancer can definitely be a welcome idea and a lot of people have already embraced it. It has helped them to stay hydrated and bring up a healthy lifestyle.
If you are one who is sincere about losing weight, managing diabetes, or just plan to be healthy and drink more water every day – whatever may be your trigger – Stur can help you drink more water and reach your desired health goals.
Latest Price: See the FULL range of STUR Water Enhancers