Reverse osmosis (RO) uses pre and post-filters and a semi-permeable membrane with micro-pores to efficiently filter out viruses, bacteria, and chemical contaminants. One downfall is that RO systems also remove the healthy minerals in the water, leaving it slightly acidic. Remineralizing RO water is the ideal solution for adding essential minerals and improving the pH of drinking water.
Reverse osmosis systems fitted with a remineralization filter can add minerals into the water after it has been decontaminated. These systems are also able to reduce the acidity of reverse osmosis water.
This post highlights the benefits of remineralized water and discusses the top RO systems capable of remineralization in detail.
Benefits of remineralized water
According to the WHO, demineralized water is not ideal for drinking. This is because demineralized water doesn't provide adequate levels of naturally found essential minerals.
Remineralizing your RO water assures your family access to pure, refreshing, and tasty water with beneficial nutrients like calcium and magnesium.
Substantial evidence shows that consuming magnesium-rich water significantly reduces the risk of Cardiovascular disease (CVD) and CVD fatalities.
While, drinking water low in calcium is associated with a high risk of fracture in children, low weight at birth, certain cancer types, and cases of CVD.
Thus, water remineralization following reverse osmosis is vital for the general health of your household. It guarantees the presence of essential minerals and improves water pH.
Can you remineralize RO water?
Remineralizing filters do a fantastic job of adding healthy minerals to your RO water. Investing in an RO system that can remineralize your water is the perfect choice for healthy, pure drinking water.
Here are the best reverse osmosis systems that will remineralize your household drinking water. They have been chosen from a range of websites including WaterDropFilter.com, Frizzlife.com and Amazon.
Top 10 RO systems that will remineralize your water
1. G3 Remineralization Reverse Osmosis System
The G3 Remineralization Reverse Osmosis System from Waterdrop is one of the best RO systems to remineralize your water. It features a long-lasting, high-quality DOW RO membrane for improved efficiency.
The G3 is tested and approved to meet the NSF/ANSI standards, including NSF/ANSI standard 58 for Total Dissolved Solids (TDS) removal (91.9%) and 372 for lead free components.
Unlike ordinary RO systems, Waterdrop RO systems guarantee instant water purification. Its filtration rate is 400Gallons/Day and a max water flow of 0.28gal/min. You don't have to wait for the pure water; it takes approximately 12 secs for your cup of pure water to be ready.
Key features
Tankless design – prevents bacteria and virus build-up and saves on space
Adopts selected natural materials (stones) for remineralization – no artificial chemicals
A 7-stage deep filtration process – removes up to 91.9% of TDS.
A smart faucet that displays real-time water quality
Pros
Automatic flushing
Free shipping
Saves on space
Easy to install and replace the filter
Fast water flow
Smart TDS monitor
Cons
Only uses components from Waterdrop
2. Frizzlife RO System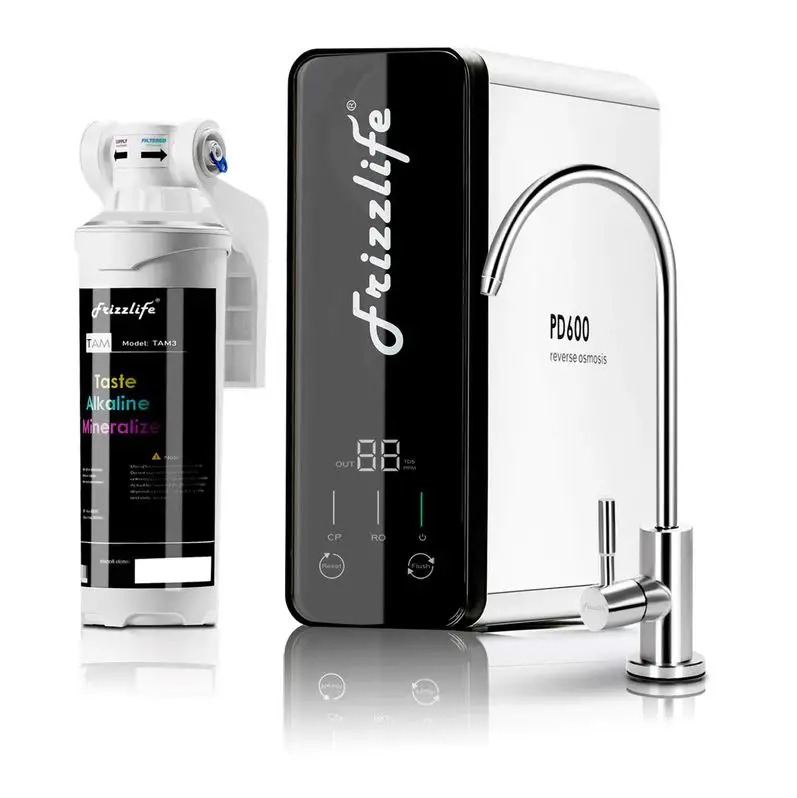 The Frizzlife PD600-TAM3 RO System is a premium water purification system with an alkaline remineralization filter. This filter remineralizes the RO water with six natural minerals and balances its alkalinity to a pH above 7.5.
Its high-grade semi-permeable membrane removes 99.99% of 1000+ water contaminants like fluoride, arsenic, lead, chloramine, mercury, TDS, e.t.c.
Stay hydrated with pure alkaline water from the PD600 RO system, which features an impressive filtration capacity of 600gallons per day and a maximum water flow rate of 0.41gal/min. No time to waste! You get a cup of clean, safe water in approximately 10 secs.
Key features
A tankless design for space efficiency and prevention of bacteria and virus build-up
Advanced water saving tech – reduces water wastage by up to 450% compared to typical RO systems (it has a drain ratio of 1.5: 1)
In-built smart TDS monitoring systems to show water quality and remind you when to change the filters
Pros
Easy to use and change the filter
Smart LED display
Compact design
1-year warranty
High water flow
Balances water pH
Built-in pump
Cons
Noisy internal pump
High initial cost
Nonautomated flushing contrary to the G3 from Waterdrop
3. iSpring Under-Sink RO System
The iSpring RCC7AK Under-Sink RO System is a sophisticated 6-stage water purification system with an alkaline remineralizing filter. It's a reliable and safe system that removes 99% of major water contaminants (over 1000 pollutants removed).
Safeguard your family's health with the iSpring RCC7AK remineralizing RO system that provides optimal safety by removing up to 98% of arsenic, fluoride, chlorine, and lead. It's also NSF/ANSI certified for TDS reduction (meets NSF/ANSI 58 standards) with a capacity of 70gal/day. This capacity is higher than the 200-AARO-LIV from US Water Systems but not as impressive as Waterdrop's G3.
The remineralizing filter adds essential minerals to the water, producing slightly acidic water with a pH of 7.0 or below.
Key features
A transparent design – makes it easy to inspect the first-stage housing for better maintenance.
Leak-free fitting – employs a push-to-connect mechanism and premium o-rings filter seals for leak prevention.
Pros
It doesn't require electricity
Long life filter
Live tech support
Installation support videos
Booster pump included
Water pressure regulator
1-year warranty and 30-day money back guarantee
Cons
PH levels may not be raised high enough
Installation may be complex to some
4. APEC Reverse Osmosis System
The APEC RO-PH90 Reverse Osmosis System is another premium quality remineralizing water purification system designed and manufactured in the USA. Its filters have been tested and certified by the Water Quality Association (WQA) to remove 99% of water contaminants like fluoride, arsenic, lead, e.t.c.
This super efficient system guarantees clean, tasty water for your household, saving on water bottle purchases. Its impressive capacity filters ensure uninterrupted pure water supply for up to 12 months before replacement.
Additionally, RO-PH90 has a high water flow producing 90gal/day of ultra-tasty water. Its 6-stage purification process ensures no harmful pollutants remain in the filtered water making it a great choice for your family.
Key features
Supreme quality food grade and lead-free faucet made to last.
High-quality calcium carbonated cartridge to effectively raise the RO water pH.
Pros
Premium quality US-made components
2-year extended warranty
Food grade faucet and parts
Efficient and lasting filters
2x faster without a pump
Cons
Only adds calcium to the filtered water.
Requires more under-sink space for the tank
5. Geekpure RO System
Geekpure's RO System is a 6-stage alkaline remineralizing filtration system with a capacity of 75gal/day and a tank capacity of 3.2gallons. It features a BPA-free and lead-free deluxe faucet with an NSF-certified semi-permeable membrane that removes over 1000 water contaminants.
The system has a contaminant removal rate of 99% and a maximum TDS rate of 1000 ppm on tap or well water.
The carbon filter removes chlorine and other particles for improved taste and odor.
Its remineralizing filter adds essential minerals like magnesium, calcium, potassium, and sodium to the filtered water. This improves its pH to around 7.5-9.
It also features premium quality components with long shelf life.
With the Geekpure remineralizing RO system, your entire household is assured of healthy refreshing water 24/7.
Pros
Long-lasting filters
Moderate upfront cost
Remineralize RO water to desirable pH levels
3-year shelf life
Cons
The storage tank takes more under-sink space
6. EXPRESS WATER UV RO Water System
The EXPRESS WATER UV RO Water System brings water purification to the next level with an 11-stage purification process and an alkaline remineralizing filter. It includes an efficient UV filter that kills microorganisms like bacteria (E. Coli, Coliform, e.t.c.), viruses, and other pollutants.
The system is tested and certified to meet NSF/ANSI 42, 58, 401, and EPA 524.2 standards for TDS reduction.
It's effective in removing common contaminants as follows:
99.96% of heavy metals like lead and mercury
99.83% of fluoride
99.99% of VOCs and pharmaceuticals and
99.26% – 99.29% of nitrates and semi volatiles
The remineralizing filter adequately adds vital minerals like potassium, calcium, and magnesium and improves the water's alkalinity.
Pros
Premium filtration with UV light
Leak detection and automatic cut-off valve
Active mineral technology
Cons
Storage tank occupies more space
Installation may be complex to some people
 7. Home Master Artesian Full-Contact Undersink RO System
The Home Master TMAFC Artesian Full-Contact Undersink RO System is a BPA-free, lead-free, and USA-made water purification system that can remineralize your drinking water. It's tested and certified to meet NSF standards for safety and performance.
The system's filter has an impressive capacity of 2000gallons. However, if a year elapses even without reaching the maximum capacity, it's advisable to replace it.
For perfecting pure refreshing water, the system uses a Dow Filmtec RO membrane with a 0.0001microns accuracy (achieves 98% TDS reduction). Its Patented Full Contact Artesian remineralization filter efficiently adds essential minerals like calcium and magnesium to your drinking water.
The storage tank has a capacity of 3.2 gallons. It produces 50gallons of purified alkaline water per day.
Key features
2-stage unique full contact patent remineralization process
Pros
Pure and tasty water
5-stage filtration process + 2-stage remineralization
Impressively lasting filters
5-year warranty
Easy assembly
2X faster water flow
Proudly made in the US
Cons
Low daily production rate
High water wastage
8. UKOKE 6 Stages RO System
UKOKE's RO75GP 6 Stages RO System improves your drinking water quality by adding healthy minerals and balancing the pH with its remineralizing filter.
Enjoy healthier, tasty water with the UKOKE RO75GP that removes up to 99.99% of harmful water contaminants. Its alkaline remineralizing filter adds calcium carbonate to the filtered water improving the pH to 7.0 or above.
Filters 75gal/day with fast water flow to me your household needs.
Key features
Quick-connect premium Elbow fitting for leakage prevention
Built-in water pressure gauge that regulates incoming water pressure
Pros
Lead and BPA-free material
Easy installation plus a video guide
Meets FDA and NSF/ANSI 58 standards
WQA platinum seal certification
In-built booster pump
Cons
Only adds calcium to filtered water
Non-automatic flushing
Possible bacteria and virus build-up in the storage tank
9. Mikro Epsilon 3-Stage Portable RO System
The Mikro Epsilon 3-Stage Portable RO System brings the power of a compact and efficient purification system with a remineralizing filter.
This US-made RO system delivers an impressive 75gal/day (3gal/hr), surpassing some high-end RO systems like the  Home Master TMAFC. It uses a Thin Film Composite (TFC) RO membrane that effectively removes 90-95% harmful water impurities.
The carbon filter reduces sand, sediments, chlorine, taste, and odor. Additionally, it's equipped with an Inline Calcite/GAC filter that adds essential minerals raising the pH to 7.0.
Pros
Compact portable design
1-year warranty
5 color-coded tubing
Easy to install
Low upfront cost
Cons
pH may not be raised high enough
Installing a remineralizing RO system is a great way to ensure healthy, pure water for your household. The above list will give you the best insight to help you choose a suitable remineralizing RO system for your daily needs.
10. US Water Systems RO
The US Water Systems 200-AARO-LIV RO System is a 100% USA-made water purification system with a remineralizing filter. It's packed with impressive features like remineralization, similar to an alkaline water filter pitcher.
The system employs Livation Hydration Technology with a high-grade 6-stage alkaline filtration process. This gives it a purification capacity of 50gallons per day. You also get to choose from different faucet colors to fit your preference.
It reduces contaminants such as lead and cysts while adding essential minerals like magnesium, calcium, and potassium to your water. It also Improves the filtered water pH to around 8.5 to 10.
The carbon filter is essential for removing chlorine for improved taste and smell.
This long-lasting, professional, and efficient RO system treats your family to healthy hydration.
Pros
Improves the Oxidation-Reduction Potential (ORP) (around 100mV -300mV)
Proudly made in the USA
A 5-year warranty plus tech support
Reduces water wastage by roughly 80% 
Durable
Cons
Requires a large space to fit the tank
High initial cost