Silica has become increasingly popular for its health properties, and scientists have agreed that it may be an antidote for dementia, bone fractures, and sun-damaged skin. That's why it is a good idea to drink water high in silica.
If you want to know which bottled water brands are high in silica, read on to find out. Later we'll also provide a TON of information on the benefits of drinking silica-rich water, if you can consume too much, and the silica content from regular tap water.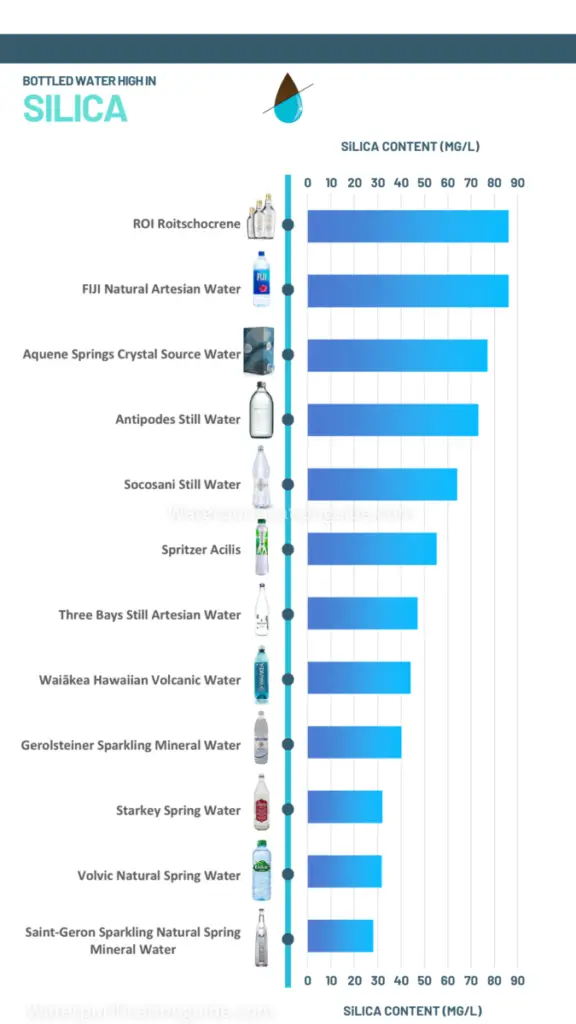 1. Antipodes Still Water
Antipodes still water comes all the way from Bay of Plenty on New Zealand's North Island and is sold on Amazon throughout the world. It's 73 mg/l of silica is all the more impressive because it comes in a low-mineral water with only 130 mg/l of TDS (total dissolved solids).
This perfectly neutral pH 7.0 water collects in an aquifer below wetlands from where pressure forces it to the surface. It is also available in a sparkling version and is bottled only in glass.
In fact, New Zealand also sports brands like Oravida, Kiwaii, nakd, and Te Waihou, all with sky-high silica contents between 77 and 89 mg/l, and all from the same part of the North Island.
But because the others are difficult to buy directly from outside Australasia, we won't list them here.
Do keep them in mind when you go travelling, however, as they have all the same benefits as Antipodes.
2. FIJI Natural Artesian Water
Having slowly filtered through volcanic rock for thousands of years, FIJI Natural Artesian Water is acquired from an artesian aquifer in the Fijian Islands.
It has an impressive amount of naturally occurring silica content of 86 mg/l and can also supply good amounts of calcium (19 mg/l) and magnesium (14 mg/l).
With an alkaline pH of 7.7, it is one of amazon's most popular bottled water brands and easily accessible.
3. Socosani Still Water
Bottled since 1904, Socosani Still Water flows from the Chachani Volcano in Peru's Andes Mountains. With 1,392 mg/l of TDS, it is unsurprising that it is high in silica (64 mg/l), bicarbonates (1,239 mg/l), sodium (225 mg/l), calcium (140 mg/l), and magnesium (89 mg/l).
At 20,000 feet above sea level, it is not only one of the highest springs in the world, but it also benefits from the snow that flows through the rocks and eventually emerge spontaneously at the spring. It is bottled at the source far from any human habitation.
4. Three Bays Still Artesian Water
Three Bays Still Artesian Water, previously called Aqui-Live, is an Australian brand that has recently become available in the U.S. on Amazon, and it must get a mention for its 47 mg/l of silica, 64 mg/l of calcium, and 92 mg/l of magnesium.
Being packed with so many minerals, it shouldn't be surprising that it has an alkaline pH of 8.3 and 1,300 mg/l of TDS.
Strangely, the owners of the property in Victoria state in Australia did not even know that the property incorporated a great Artesian source of mineral-rich water when they bought their family house, but laboratory tests soon informed them.
5. Waiākea Hawaiian Volcanic Water
Waiakea Hawaiian Volcanic Water is widely available, including at Amazon, this water has 44 mg/l of silica, a bit of calcium and magnesium, and a pH of 7.8.
It is brought to the surface from an aquifer after flowing through thousands of feet of volcanic rock on Big Island, Hawaii. Like the other American entries on this list, it is then cleaned via carbon and ultraviolet filters to remove the potentially harmful substances.
6. Gerolsteiner Sparkling Mineral Water
Germany's contribution to the list, Gerolsteiner Sparkling Mineral Water, contains 40.2 mg/l of natural silica, but it shines in other minerals too with 347 mg/l of calcium and 108 mg/l of magnesium.
Being naturally carbonated, it has an acidic pH of 5.9 and is produced by a company that has existed since 1888 in the Volcanic Eifel region of Germany.
The water is brought to the surface from where it gathers 656 feet below the ground, all after spending years filtering through mineral-rich rocks laden with natural carbonic acid.
7. Starkey Spring Water
With 32 mg/l of natural silica and an alkaline pH of 9.2, this is another gift from geothermal springs in Idaho.
It starts as rain water, spends thousands of years underground in Basalt rock, and is then force back to the surface by heat and temperature.
Sometimes available from Amazon, purchasable at all Whole Foods Markets, and soon also on the company's own website.
8. Volvic Natural Spring Water
Acquired from springs in the Auvergne Volcanoes Regional Park in France, Volvic Mineral Water contains 31.7 mg/l of silica. It starts off as rain water and then flows through layers of volcanic rock where it collects its minerals.
A 2006 study in the Journal of Alzheimer's Disease showed that 50.7 ounces daily of Volvic specifically could reduce the amount of aluminum in the bodies of Alzheimer's patients and thereby reduce one of the toxic elements that causes this disease.
It is easily accessible at Amazon.
9. Saint-Geron Sparkling Natural Spring Mineral Water
Saint_Geron is a carbonated option with an extraordinary 1,158 mg/l of TDS (total dissolved solids), whic is not only a good choice for silica at 28 mg/l, but also a brilliant choice for calcium (79.1 mg/l), magnesium (53.7 mg/l), and potassium (18.4 mg/l).
The water is drilled from springs near Village de Saint-Géron in the Auvergne region of France. It is naturally sparkling and mineral-rich and bottled in glass bottles at the source.
10. Spritzer Acilis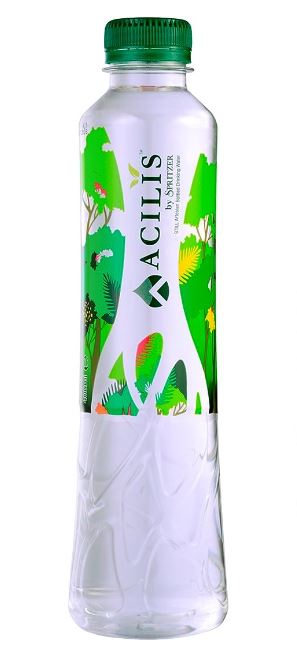 A non-profit project from the UK, Acilis is a Spritzer brand that contains 55.2 mg/L of naturally occurring silica, a good amount of calcium (36 mg/l) and has a balanced pH score of 7.1. The water is drawn from an artesian aquifer in the Malaysian rainforest.
As a brand that is actively involved in supporting research on silica, it donates samples and provides discounts to support groups for people with neurological conditions like Alzheimer's disease, Parkinson's disease, and multiple sclerosis.
The company ships to the UK, Europe, and Australia and it is also available on amazon in the UK.
11. ROI Roitschocrene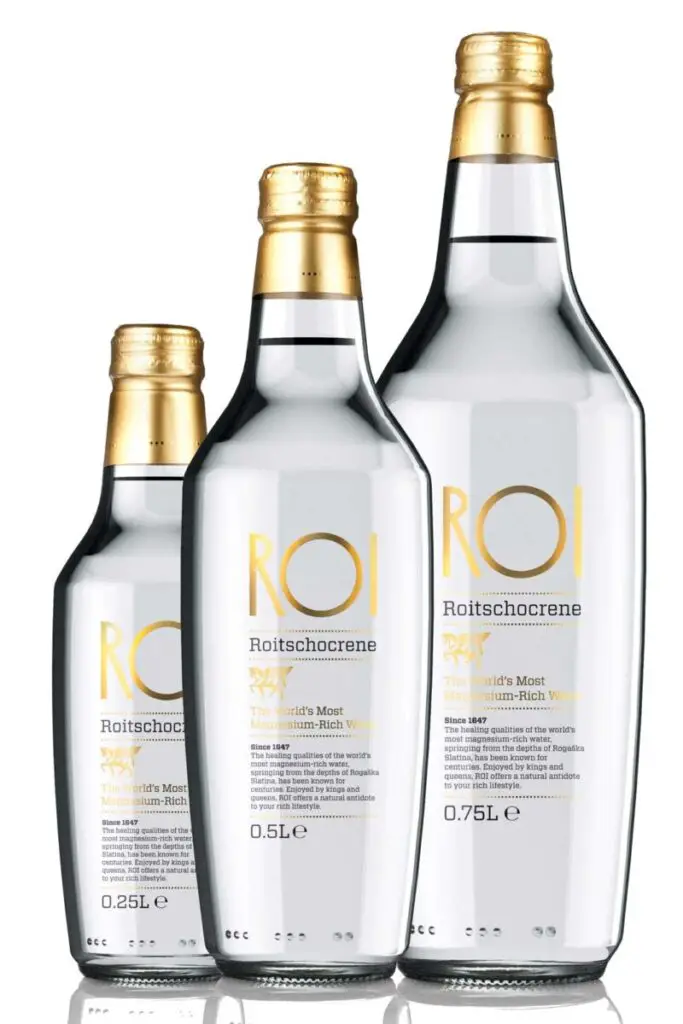 Commonly assumed to be the water with the highest mineral content in the world, ROI Roitschocrene can show off with 86 mg/l of silica, 1,600 mg/l of sodium, 1,300 mg/l of magnesium, 610 mg/l of calcium, 7,700 mg/l of bicarbonate, and 7,481 mg/l TDS (total dissolved solids).
Available for direct purchase mainly from two selected retailers in the United States and Europe, this brand is naturally carbonated, crazy expensive, thoroughly exclusive, and will make you sick if you drink too much of it because of all the magnesium.
The springs in Slovenia are hundreds of years old, the water is estimated to be 8,000 years old, and the rocks through which it flows before bubbling to the surface are 285 million years old.
12. Aquene Springs Crystal Source Water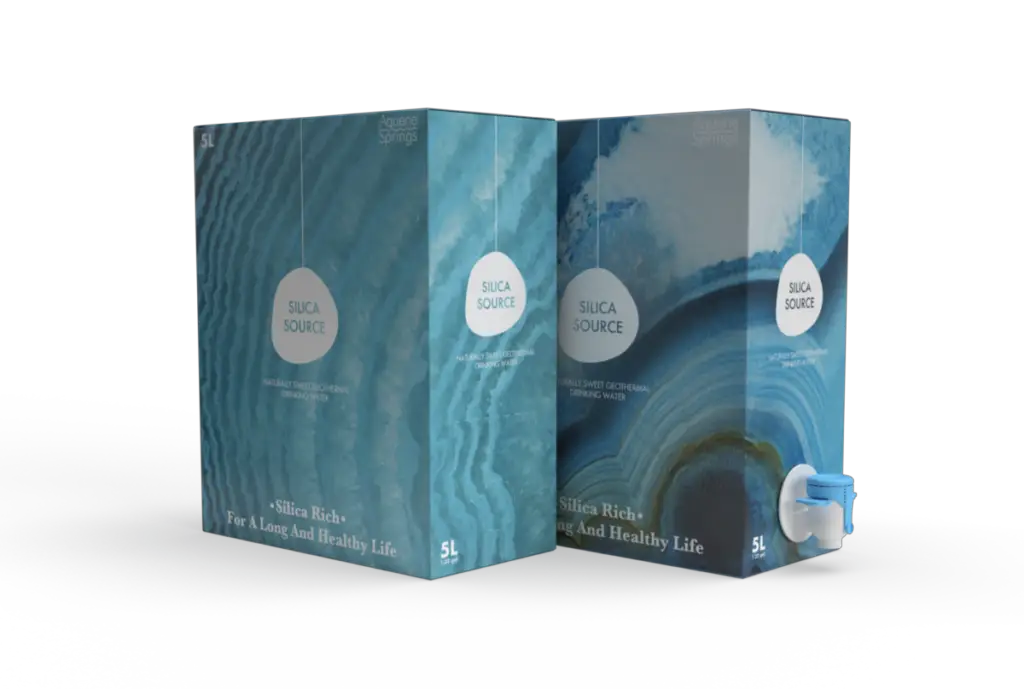 With a high alkaline pH of 8.6, this brand is one of the best sources of natural silica at 77 mg/l. The water is collected from geothermal springs in Southern Idaho
This water is also low in deuterium, which researchers have found can reduce depression symptoms and increase sleep quality.
You can buy it straight from the company's website in packs of two large 170-ounce boxes.
Are Silicon and Silica the Same Thing?
Silicon and silica are not the same thing. Silica contains silicon.
Silicon is a metalloid in the earth's crust and in rocks, meaning that it is an element with properties of both metals and non-metals.
Silica is a combination of silicon and oxygen and is found in quartz and sand.
Because there is so much oxygen in the earth's crust, in rocks, in our food, and in our bodies, silicon is hardly ever found in isolation and is normally found in the form of silica.
Silicone is not natural at all. It is a synthetic man-made rubber or oil.
What are the Health Benefits of Silica?
A silica intake of more than 40 mg per day helps to build bone mineral density and thereby bone strength in men and premenopausal women.
An intake of 10 mg or more of silica per day from drinking water improves cognitive function and reduces the risk of dementia and Alzheimer's disease.
Multiple sclerosis patients have high amounts of aluminum/aluminium in their bodies, and silicon-rich mineral water is able to promote the excretion of this metal (ref 1).
10 mg of silica supplementation per day improves sun-damaged skin and reduces the brittleness of hair and nails, probably because it promotes the production of collagen, the protein that keeps our skins elastic.
How Can We Consume Silica?
Silica occurs in cereals, grains, fruits, vegetables, legumes, nuts, and seeds. There is very little in meat and dairy.
Daily intake is between 20-50 mg per day for most Western populations, while researchers have found higher intakes of 140-204 mg per day in China and India where the people eat more plants.
Why Buy Silica-Rich Water?
Tap water contains some silica, typically in the range of 0-20 mg/l, but it varies from one region to the next.
For example, water in Los Angeles usually contains between 14 and 17 mg/l, Colorado Springs water 5 mg/l, Portland water between 4 and 12 mg/l, and New York City water 7.5 mg/l.
That's why any water with a silica score above 20 mg/l is pretty good.
Our bodies absorb only 40-50 percent of the silica we consume, with the form that occurs in water being easier to absorb than the form that is present in plants.
That is why it is a good reason to find a good bottled water brand that contains silica.
Is Too Much Silica Detrimental to Health?
Researchers have not found silica to be toxic if it's consumed in food and water.
While the Food and Drug Administration recommends that silica should not constitute more than two percent of daily food intake, it hasn't set a recommended daily intake. To put this in perspective you should NOT consume MORE than about 10-30 grams of silica if you ate between 500 and 1,500 grams of food).
The Food Standards Agency of Great Britain states that a daily intake of 25 mg/kg of body weight is safe, meaning 2,000 mg (2 grams) per day for a 176-pound adult.
The European Food Safety authority recommends 700 mg (7 grams) daily (ref 2), even though it has not recorded any adverse effects at thousands of mg per day.
There are two exceptions:
Studies performed on guinea pigs and other animals show that long-term use of high doses of silicate containing drugs, such as analgesics and antacids, could cause renal stones and kidney damage.
The inhalation of crystalline silica causes lung scarring, tuberculosis, lung cancer, and poor heart health.
Conclusion
Given that scientists have found no adverse health effects and only health benefits from the consumption of silica, you can pick confidently from this list and know that silica is not the water contaminant it was first thought to be.
References:
1. Jones, K., Linhart, C., Hawkins, C. and Exley, C., 2017. Urinary excretion of aluminium and silicon in secondary progressive multiple sclerosis. EBioMedicine, 26, pp.60-67.
2. EFSA Panel on Food Additives and Nutrient Sources added to Food (ANS), Younes, M., Aggett, P., Aguilar, F., Crebelli, R., Dusemund, B., Filipič, M., Frutos, M.J., Galtier, P., Gott, D. and Gundert‐Remy, U., 2018. Re‐evaluation of silicon dioxide (E 551) as a food additive. EFSA Journal, 16(1), p.e05088.
The Best Water Bottles We've Reviewed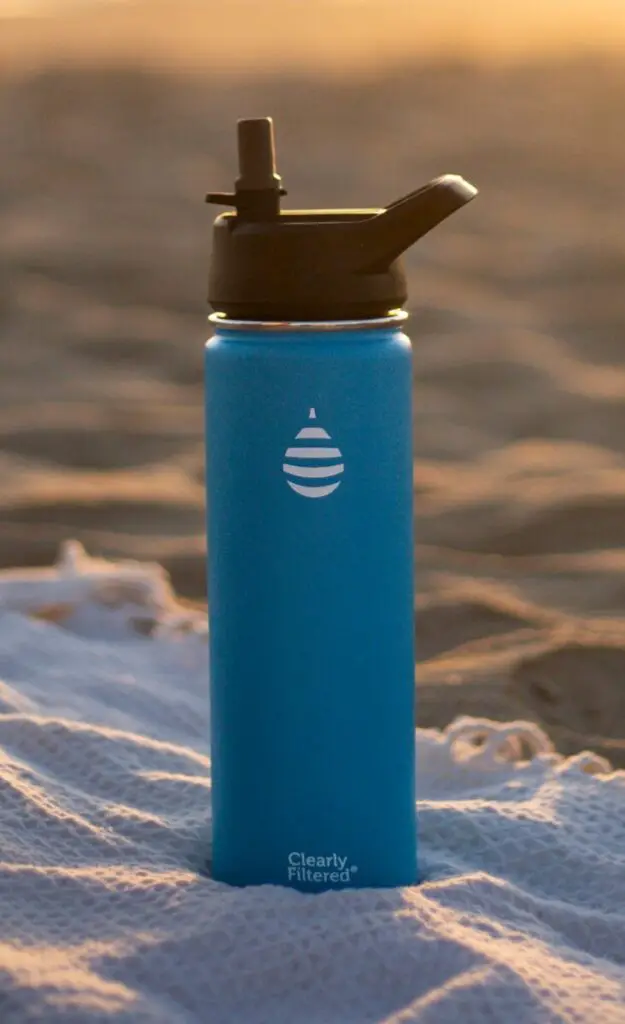 Clearly Filtered | Stainless Steel Filter Bottles
We really love these filter bottles for keeping your drinks cool and contaminant free! They remove 99.9% of over 220 contaminants and use BPA-free plastics and double-walled stainless steel to produce some awesome looking designs with numerous bottle sizes for every situation.
Use Code
WPG15
for 15% off your first filter
(Excludes replacement filters, limit one per guest).