Chlorine and chloramine are essential disinfectants that make our tap water safe to drink. However, showering in water that contains chlorine can strip our hair and skin of its natural oils, leaving it dry, damaged and prone to irritation.
Filtering your shower water using a shower filter is an easy and relatively cheap solution to protect you and your family from the negative effects of chlorine and chloramine.

Why is chlorine and chloramine in water?
Chlorine is a chemical element that has been used as an effective water disinfectant since 1908 to kill parasites, bacteria, and viruses across the U.S. 
Chloramine is another powerful disinfectant used by most public water supply systems to prevent contaminants, germs, bacteria and viruses from getting into your tap water.
Although drinking water containing chlorine or chloramine is of greater concern for many people, showering in chlorine and chloramine can be a terrible experience and potentially harmful for many people including children.
Effects of chlorine and chloramine
While the amount of chlorine in our drinking water supply is closely monitored and should never exceed 4 milligrams per liter, for some people even a tiny amount is too much.
People with pre-existing health conditions such as those undergoing kidney dialysis may need to completely avoid consumption of chlorine from their drinking water.
Additionally, inhaling chlorine vapors in a shower may be of particular concern for people with pre-existing heart or lung disease as they can be sensitive to chlorine.
Regular or prolonged exposure to chlorine in water can lead to:
Dry hair
Brittle hair
Split ends
Altered hair color (especially if dyed)
Nasal irritation
Irritated and dry skin
Red or inflamed skin
Rashes
Premature ageing
Dry and brittle nails
Soften and discolor gel or acrylic nails
Continued or long-term exposure to chloramine in water can result in:
Aggravation of preexisting conditions, including eczema and psoriasis
Bleeding lips
Dry mouth and throat
Red and dry eyes
Burning eyes
Itchy and dry skin
Rashes
Dandruff
Itchy and dry scalp
Brittle hair
Altered hair color
Dull hair or hair color that fades quickly
How to remove chlorine and chloramine from water
Shower filters are a simple way to directly and effectively reduce chlorine in your water. A shower filter containing certain filter media can trap or convert chlorine and/or chloramines while letting the filtered water pass through for showering.
Activated carbon
Shower filters that use activated carbon filters will remove chlorine from water. The chlorine is adsorbed onto the activated carbon media. This is a fairly rapid process and people often say they can notice the change in water quality straight away after fitting a shower filter.
Catalytic carbon
Chloramine is harder to remove and requires a catalytic carbon. This is similar to activated carbon but has an altered electronic structure that decomposes chloramine into chloride, which is not harmful to humans.
Catalytic carbon filters can remove chlorine as well as chloramine, so they are a preferred option.
Vitamin C
Vitamin C is a newer method for neutralizing free chlorine. Whilst it is effective at reducing chlorine levels in water, it can also lower the pH of the treated water, making it slightly acidic.
14 Shower Filters That Remove Chlorine and Chloramine
1. AquaBliss Multi-Stage Shower Filter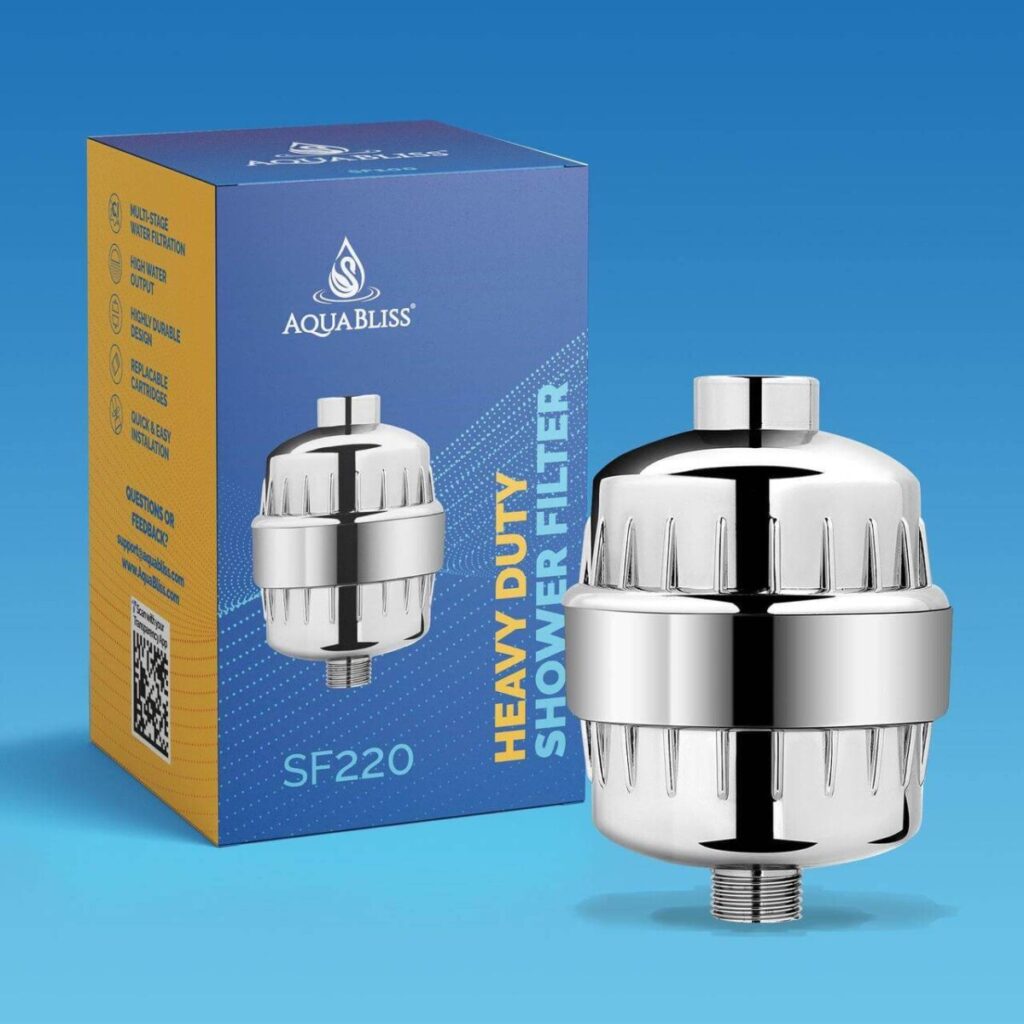 AquaBliss Heavy Duty Shower Filter SF220 uses calcium sulfite, activated carbon and redox media to significantly reduce chlorine and chloramines from both hot and cold water.
This multistage filter relieves dry itchy skin, dandruff, and eczema.
Activated coconut shell carbon is very effective in removing a wide range of pollutants from shower water quickly and easily.
Each filter cartridge lasts approximately 8 months.
Pros:
Multi-stage filtration
Stainless steel casing
Flow rate at 1.5GPM
Long lasting filter cartridges
Cons:
Does not eliminate sulfur smells.
2. Crystal Quest Shower Filter
Crystal Quest Shower Filter effectively removes chlorine, chloramines, heavy metals, and odors. Its function in the shower is to dechlorinate, reduce contaminants, and enhance pH balance by filtration through Coconut Shell Granular Activated Carbon before the water leaves through the showerhead.
With a drop-down filter design, the filtration media is in contact with the water for a longer period of time, which results in enhanced filtration. One filter lasts for 12 months.
Pros:
3-stage filtration system
Balances pH
Copper-zinc formulation inhibits growth of bacteria inside the filter cartridge.
Easy to install.
Removes sulfur smell
Filtration capacity for one year
Cons:
Filtration level is not specified
Heavy designs can cause water pipes to break
3. Pelican Premium Shower Filter
Pelican Premium Shower Filter removes 96% of chlorine and reduces chloramines.
Using a three-stage filtration process, Pelican shower filters also remove other organic compounds from the water. It has dual flow showerheads that can switch seamlessly between a high and a low flow to save water.
Filtering up to 15,000 gallons of water with two replacements a year, this filter is made to last.
Pros:
Turns your shower into an aromatherapy experience.
Filters out synthetic chemicals.
Eliminates unpleasant odor.
Comes in White or Chrome.
Includes an Ocean Breeze Scent Bar.
4. Aquasana Shower Filter
The Aquasana Shower Water Filter captures 90% of chloramine and chlorine in the shower water. Copper-zinc media with double filtration ensures a balanced pH level of your water, while natural coconut shell carbon reduces the chlorine, and other harsh chemicals.
The design of this filter allows for maximum filtration by increasing contact time with the media and maintaining pressure while doing so. The filter should be replaced every 6 months.
Pros:
2.5 GPM Stable water pressure.
NSF certified to remove chlorine
Easy installation process.
Cons:
Leakages have been reported in some customer reviews.
Overpriced
5. Paragon Integrated Shower Filter
Paragon Integrated Shower Filter NSF/ANSI certified to remove chlorine by over 99%, reduces hydrogen sulfate, removes chemicals from water, and naturally renews hair and skin softness.
This built-in shower head uses KDF55, a high purity copper-zinc alloy, and the patented Media 41.
Designed to reduce calcium carbonate, hydrogen sulfide and magnesium, and prevent bacterial, fungal, and algae growth. Featuring an integrated cartridge that filters 10,000 gallons prior to replacement.
Pros:
Features five adjustable spray settings.
Very high cartridge capacity
Easy to install
Cons:
6. Rainshower CQ-1000-NH Dechlorinating Shower Filter
Rainshower Shower Filter removes 90% of free chlorine and converts it into harmless chlorine ions. It is WQA certified according to NSF/ANSI 177 for reduction of harmful components.
Rainshower Filters use KDF media to reduce chlorine. This is great for people who are sensitive to chlorine and chloramine.
During the second stage, sun dried Crystalline Quartz is added, which reduces the tension at the water's surface.
Depending on the water's sediments and how it's used, a filter cartridge usually lasts 6-9 months. However, one of the big downsides of this shower filter is that it CANNOT be used for hot water!!
Pros:
Uses quartz to energize the water
No leaks
Easy to install
Cons:
Not suitable for hot water
7. Berkey Shower Filter
The Berkey Shower Filter removes up to 95% of chlorine, reducing chemical absorption and respiratory problems. Uses a blend calcium sulfate and KDF 55 that kills bacteria and removes water-soluble metals such as lead, mercury, and iron, as well as hydrogen sulfide, microbes, and scale.
In addition, it prevents lime scale, fungi, and mold in your shower. Due to the combination of filtration agents, the product is capable of filtering both hot and cold water. Shower Filters typically last for 10,000 gallons and need to be replaced every year.
Pros:
Affordable
Long-lasting cartridges
Easy to install
Increasing hard water suppleness
Cons:
Does not remove chloramines
8. UBS Vitafresh Shower Filter
UBS Vitafresh Shower Filters help neutralize chlorine and releases Vitamin C into your shower water. The shower filter is made of a special DOLKI ceramic ball that uses both vitamin C and carbon.
As vitamin C neutralizes chloramines, carbon gets rid of chlorine and volatile organic chemicals that can have an adverse effect on hair and skin.
UBS' Vitafresh shower filter meets the EPA's Clean Water Act's requirements and is environmentally safe.
The transparent housing makes it easy to see the filter works and to know when it needs to be changed. Replaceable cartridge filters last up to 10,000 liters.
Pros:
Removes toxins that cause eczema
Does not affect the flow rate
Neutralizes and Removes both chlorine and chloramines
Cons:
Due to its plastic composition, it may break up
9. Sunrise Shower Filter
The Sunrise Shower Filter is effective at reducing chlorine, heavy metals, rust, sand, and other sediments. Besides maintaining high output water pressure, 20-Stage Filtration is installed to give you the purest water possible.
Alkaline ceramic balls, adenosine triphosphate, activated carbon, and calcium sulfite are some of the filters used.
The cartridges have a capacity of 12,000 gallons of water, which provides odorless, clean water for 6-8 months.
Pros:
Suitable for both hot and cold water
A 3 pack of replacement filter cartridges
Filter that has the most layers
Cons:
Maintenance and replacement of filters are expensive.
10. Invigorated Water Shower Filter
Invigorated Water Shower Filter reduces fluoride, chloramines, and silt sediments in your shower water by filtering it through 8 stages, preserving your health and keeping toxins from your lungs and skin.
It softens hard water by raising its pH level, eliminates harmful toxins, and introduces beneficial elements such as magnesium, zinc, and calcium that leach into the skin.
Cartridges last approximately 6 months.
Pros:
Filters out solids as small as 0.3 microns.
It removes chloramines, and fluoride.
Most brands of showers are compatible with it.
Cons:
It does not eliminate soap scum.
11. BathBeyond Shower Filter
BathBeyond Shower Filter with 15-stage filtration and KDF-55 removes chlorine and chloramine, fluoride, bacteria, pesticides and other contaminants from shower water, making them suitable for everyone including children and pets.
The Vitamin C hydrates and prevents skin from becoming too dry.
With a BathBeyond shower filter, you can filter up to 24,000 gallons of water and each filter lasts approximately 6 months. Maifan stones keep the body's PH in the natural range.
Pros:
Highly effective for eczema.
Easy to install, no tools required.
Eliminates sulfur smell.
Cons:
Water contamination can cause metal coatings to break down.
12.  HOPOPRO Universal Shower Head Filter
HOPOPRO Universal Shower Filters specifically designed for the removal of chlorine, fluoride, heavy metals, or other sediments. It is made with 8 stages of high output and contains Vitamin C to fight eczema, dry skin, and dandruff. 
Each cartridge can hold 16,000 gallons of water, which provides clean water for between 6 and 8 months (depending on water quality).
Pros:
Durable & Safe Material.
Easy to install and remove.
Cons:
Does not affect pH levels.
13. Barclay Shower Filter
Barclay Shower Filters remove 90% of chlorine and reduce TDS, which helps to prevent dry hair and itchiness.
The Clearly Pure Shower Head comes with an integrated filter.
The system includes 3 parts: Calcium Sulfite Stones and Filter Sponge, as well as an Ion Box. A lightweight and durable ABS plastic shower filter from Barclay has a flow rate of 2.5 GPM. Anyone suffering from troubling skin conditions will find it an excellent investment.
Even though its price is low, it will last for up to six months.
Pros:
Affordable.
1-year warranty.
100% money-back guarantee
Cons:
14. AquaHomeGroup Shower Filter
AquaHomeGroup Shower Filter is equipped with a 15-stage dechlorinating filter capable of removing chlorine, chloramine and other harmful sediments. This, in turn, prevents skin problems including eczema, dandruff, and dry, itchy skin.
A proprietary blend of filtration media and internal filter cartridge with Vitamins C and E help restore vital minerals to the water just before it leaves the system. The filter consists of two separate parts, each of which should be replaced after 10,000 gallons or six months.
Pros:
Removes excess heavy metals
15 stage filtration system.
Comes with Vitamin C and E.
Strong pressure.
Cons:
Maintenance and installation are expensive.