Glyphosate was one of the five most used herbicides in the USA from 1992-2017, to this day more than 1.8 million tons of it are used each year. This herbicide can easily enter our water supply and drinking glyphosate contaminated water poses serious health risks. This makes it a contaminant of concern for drinking water, and it is essential to remove glyphosate using water filters.
Reverse osmosis, distillation, granular activated carbon, oxidation and nanofiltration-based water purification systems can effectively remove glyphosate from water. Powdered activated carbon and carbon blocks are ineffective.
This article will explain what glyphosate is, its adverse impacts on human health, how to remove it, and the types of water filters suitable for removing it. We'll also help you know which water filters can remove glyphosate – from reverse osmosis systems to coolers and water bottles, we've got you covered.

What is Glyphosate?
Glyphosate, a small molecule, is derived from an amino acid called Glycine and is commonly used as a herbicide. Applying Glyphosate to herbs inhibits their metabolic enzymes resulting in the elimination of almost all herbs.
Glyphosate was discovered in the USA in the 1970s, and due to its powerful herbicidal action, it took no time to become famous.
Since 1974, the use of glyphosate as the active ingredient in Roundup saw its use exponentially increase. In fact, Glyphosate is one of the most effective herbicides that is used to kill broad-leafed grasses and other weeds. It is even effective at controlling aquatic weeds.
You may find Glyphosate in numerous domestic products used for gardening and lawn maintenance. According to the National Pesticide information center's report, the marketplace has more than 750 products with Glyphosate as the main ingredient.
Glyphosate is mainly used to:
Kill the herbs in vegetable and fruit crops
Spray on various crops like Canola and cotton
kill weeds in lawns and gardens
Effects of Glyphosate on Human Health
According to the Environmental Protection Agency (EPA), Glyphosate's maximum contaminant level (MCL) is 700ug/L (or micrograms per liter). However, the suggested MCL demands more research with many suggesting it needs to be lowered.
According to the National Pesticide Information Center, swallowing products containing Glyphosate can cause:
Nausea
Diarrhea
Vomiting
Increased saliva
Burns in the throat and mouth
Glyphosate is Probably a Carcinogen
Glyphosate is considered so hazardous that the International Agency for Research on Cancer regards it as "probably carcinogenic."
Another study reports that exposure to Glyphosate-based herbicides can increase the risk of non-Hodgkin lymphoma by 40 percent in the human body.
Does Glyphosate Build Up in the body?
According to Agency for Toxic Substances and Disease Registry (ASTDR), Glyphosate doesn't accumulate in the body significantly. However, it can be easily absorbed through the respiratory or gastrointestinal tract. Skin can absorb only minute quantities of Glyphosate.
How to remove glyphosate from water
Glyphosate can be removed from water by oxidation, reverse osmosis, nanofiltration, distillation and to a certain degree, activated carbon.
1. Chlorination (oxidation)
Chlorination is a traditional method of water disinfection. While the chlorine is primarily added to the water supply to kill parasites it also removes glyphosate through oxidation.
In fact, chlorine can also effectively remove many heavy metal ions (e.g., iron, manganese) by causing them to settle (precipitate) out of the water.
Generally, the community supplied water is treated via chlorination by adding chlorine or chloramine. A small amount (4mg/L) of chlorine or chloramine to chlorinate the water is safe for human health
Oxidation by chlorine can effectively remove glyphosate from your water supply.
2. Activated Carbon Filtration
Granular activated carbon (GAC) can effectively remove glyphosate from water by adsorption. However, powdered activated carbon is completely ineffective.
A recent study demonstrated that GAC can remove more than 98.45% of the glyphosate in water. The glyphosate is adsorbed onto the surface of the carbon. Coconut shell GAC has so far shown to be the most effective of the different activated carbon filter types.
3. Reverse Osmosis
Reverse osmosis is one of the most effective methods of purifying drinking water. A reverse osmosis filter usually consists of 3 to 6 stages of filtration.
The main stages that are found in almost all RO systems include:
Sediment Filter: In the first filtration stage, the sediment filter removes large particles like dust and debris from drinking water.
Activated Carbon Filter: In the second filtration stage, the activated carbon filter captures tiny particles responsible for water odor, including chlorine and some glyphosate.
Semi-Permeable Membrane: The third filtration stage is a semi-preamble membrane consisting of a surface with pores as small as 0.001 microns. The water is forced through a membrane that captures most contaminants.
A reverse osmosis system can remove more than 92% glyphosate from water. The combination of activated carbon and membrane technology makes this an effective method for removing glyphosate, with the membrane removing ~92%, while the activated carbon filter also removes some glyphosate by adsorption.
4. Nanofiltration
Nanofiltration (NF) removes macro-molecules and viruses. Like reverse osmosis, nanofiltration uses membrane technology. With a pore size smaller than a reverse osmosis membrane (between 0.0002 and 0.002 microns), the nanofiltration membrane retains all the impurities leaving the water purified.
Nanofiltration is efficient enough to remove up to 94.5% glyphosate and other pesticides from drinking water. 
5. Distillation
Drinking water can also be purified via distillation. The concept of distillation producing clean water is inspired by the natural mechanisms of evaporation from lakes and rivers, and condensations from clouds.
In the distillation process:
Water is heated at a high temperature till the evaporation process starts. Vapors rise and leave all the impurities down.
In the second stage, vapors enter the coolant pump, where condensation begins.
In the final stage, condensed water is collected in a container.
Research conducted by the Nebraska Water Center has demonstrated distillation can remove 99.9% of Glyphosate from drinking water.
Water filtration systems that can remove glyphosate from water
Water Filter Pitchers
Here are three water filter pitchers that can remove Glyphosate from drinking water. You can check the price and availability by clicking on each.
1. Clearly Filtered Water Filter Pitcher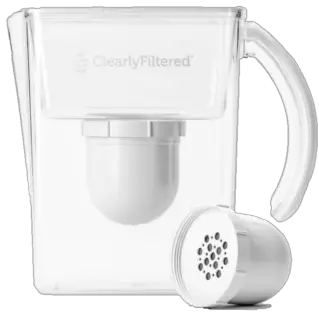 Clearly Filtered water filter pitcher comes with a 3-stage filtration system for effective removal of more than 365 water contaminants along with Glyphosate. In fact, the Clearly Filtered water filter pitcher can remove >99.9% of glyphosate from water.
In the first filtration stage, a woven mesh screen captures large particles from drinking water. The second stage of filtration removes odor and bad taste as well as the glyphosate with the help of Granulated Activated Coconut Carbon. In the third stage, the water pitcher's specially designed filter with more than seven layers of proprietary membranes removes all the other types of contaminants, including heavy metals.
The Clearly Filtered Water Pitcher comes with a water holding capacity of 80 ounces, with a great filter life of almost 100 gallons.
Pros
Removes 99.9% of contaminants
Lightweight
Made of BPA/BPS-Free material
Built-in USA
Big and easy-grip handle
Lifetime warranty
3. Epic Pure Water Filter Pitcher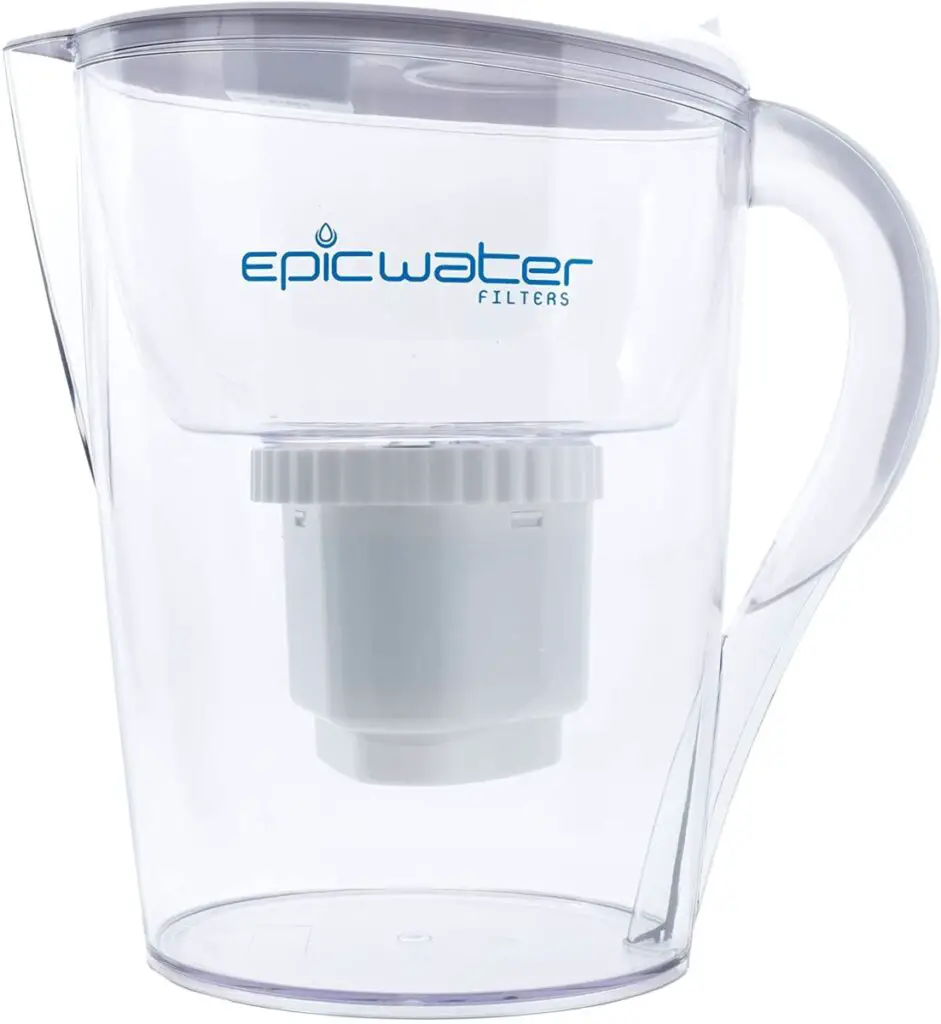 The Epic pure water filter pitcher comes with a powerful filter for the efficient removal of more than 99.9% of glyphosate from water.
The Epic pure filter can purify 150 gallons of water with a filter life of three to four months. This US made filter comes with LED countdown timer that counts down from 90 days and reminds you when it's time to change the filter.
This large capacity filter features an upper reservoir of 51 oz and a lower reservoir of 68 oz.
Pros
Compact design
Long lasting filter
BPA free
100% recyclable
Great alternative to 1500 single-use plastic bottles
NSF/ANSI Standards 42, 53, 401, & P473 certified
3. Lifestraw Water Filter Pitcher
The Lifestraw water filter pitcher (Amazon link) is equipped with a membrane microfilter, carbon, and ion exchange filter to remove more than 99.4% of water contaminants, including Glyphosate, which provides great tasting water. Independent testing has shown that the Lifestraw water filter pitcher removes >99.94% of glyphosate from water.
The water holding capacity of the pitcher is 10 cups (80 Oz), which is enough for one person a day. The filters' lifespan varies, with a single microfilter having the purifying ability of 264 gallons of water. In contrast, activated carbon and ion exchange filters need replacement every two months.
With intelligent essential mineral retaining technology, the Lifestraw filters contaminants and retains the magnesium and potassium in the water.
Pros
Compact and elegant design
Equipped with advanced filters
BPA free
Better taste and odor-free water
Cost-effective
NSF 42, 53, 401, p231, and p473 certified
Water Filter Bottles
If you are a traveler and love hiking, water filter bottles are the best option to quench your thirst. Here are some water filter bottles that can remove Glyphosate from water, providing fresh and clean water.
1. Clearly Filtered Insulated Stainless Steel Water Bottles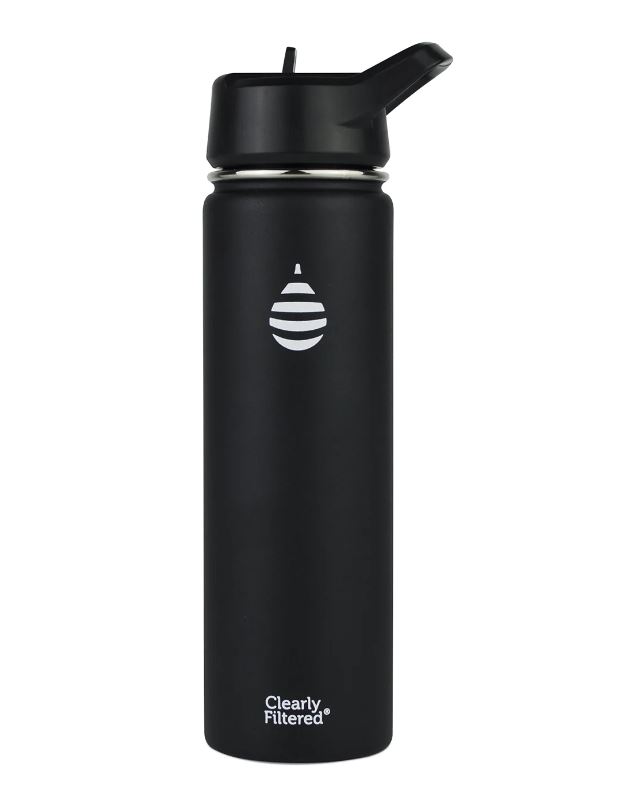 Clearly filtered's insulated stainless steel water bottle can remove more than 220 contaminants, including the 99.7% glyphosate with its Affinity Filtration Technology. So, if you are a sportsman, hiker, or traveler, investing in this water bottler can be your best purchase of the year.
The 20 oz water holding capacity can meet your needs while traveling and hiking. The insulating material can keep the water cold or warm for hours. So, enjoy fresh tasting, odorless water anywhere.
Pros
Double wall Insulation
25 Gallon filter life
Compact size
Sweat free exterior
Made in the USA
BPA/BPS free
Phthalate free
Limited lifetime warranty
2. Epic Nalgene OG Water Bottle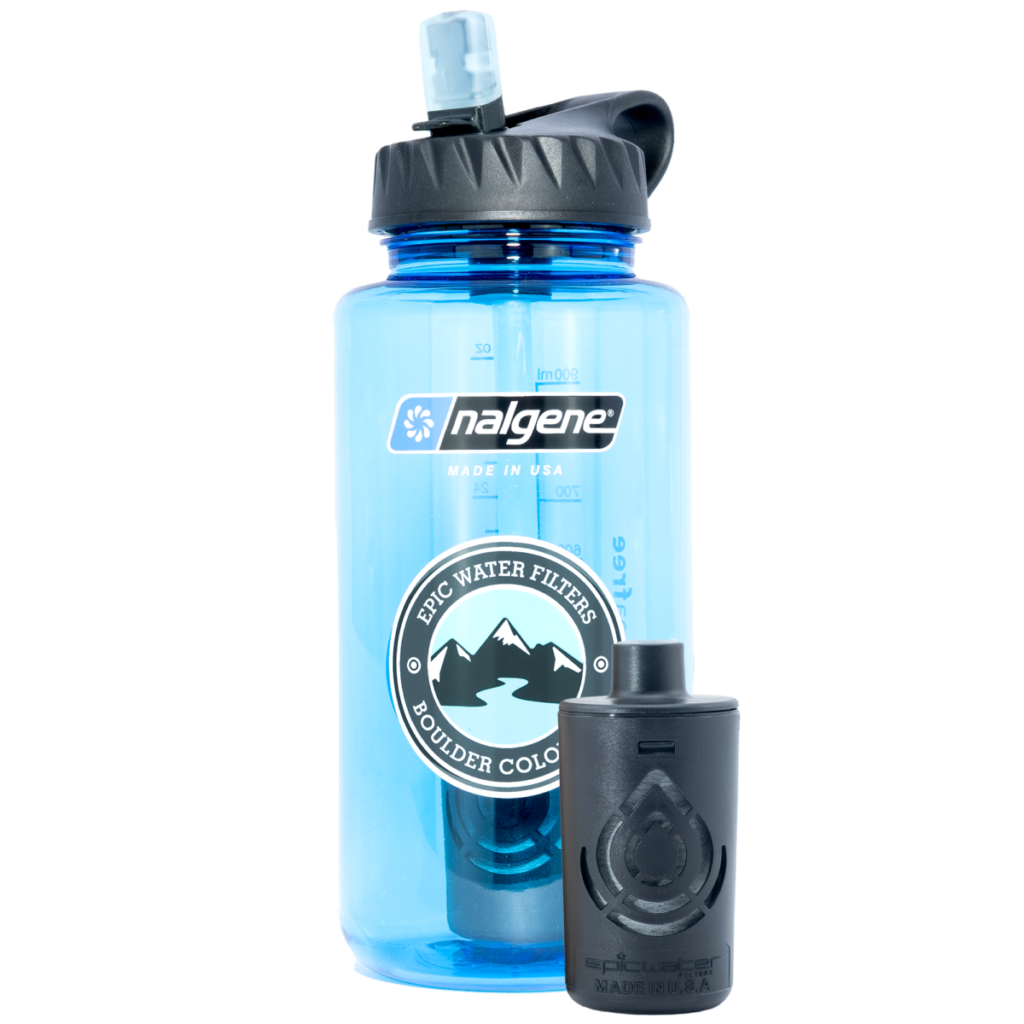 The Nalgene OG by Epic Water can effectively remove >99.95 of glyphosate from water. Not only does it ensure you have glyphosate-free drinking water, but it also removes heavy metals, microplastics and PFAS.
Epic has a huge range of simple colors and artist-designed bottles to match your tastes. The filter needs changing every 2-3 months when filling (and drinking) the bottle several times a day.
Pros
Great designs
Made in the USA
BPA/BPS free
Easy sip lid
75 gallon filter life

Lifetime warranty
3. Sport Berkey Water Filter Bottle
The Sport Berkey Water Filter Bottle (Amazon link) features an ionic adsorption microfiltration system for removing 99.9% of Glyphosate from water. This robust water filter bottle can remove a wide range of herbicides, pesticides, heavy metals, and even petroleum-based products.
The compact size makes it an easy-to-carry product. The storage shelf life of this bottle is 50 years, and the water holding capacity is 22oz. The filter can clean 100 gallons of water before you need to change the filter.
Pros
Unique Design with attractive color
Reliable
BPA-free
Easy to change filter
Lightweight
Cons
The bottle isn't insulated; water can't be kept cold or hot for long.
Reverse Osmosis Filters
Reverse osmosis is one of the perfect methods to remove Glyphosate from drinking water. Here are some RO filters that can remove Glyphosate from water.
1. Brio Aquus Reverse Osmosis Water Tankless Filtration System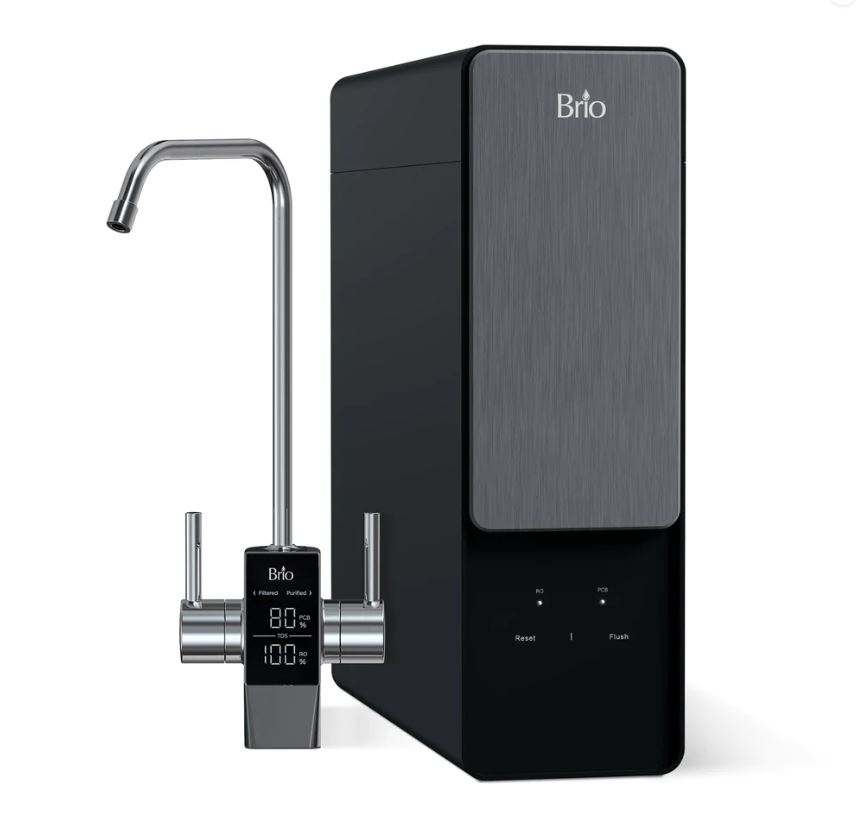 Elegance is the other name for BRIO Aquus TROE800COL RO under sink filtration system that can remove 99% contaminants from water. Aside from the removal of odor and bad taste, the 0.0001 micron pore size stops Glyphosate from flowing with the water molecules; instead, the porous surface of the RO system captures 98% Glyphosate. 
This four-in-one filtration system comes with a sediment filter, premium quality carbon filter, activated carbon filter, and reverse osmosis filter.
The tankless BRIO water is easy to install. This high-capacity water filtration system can filter 800 gallons of water per day.
Another prominent feature that outweighs this tankless water filtration system is its smart faucet with a TDS (Total Dissolved Solids) meter. The TDS meters keep you informed about the quality of water.
Pros
Space efficient design
Easy to install and maintain
Largest capacity filter compared to others on the list
2. Waterdrop K19 Countertop Reverse Osmosis Water Filter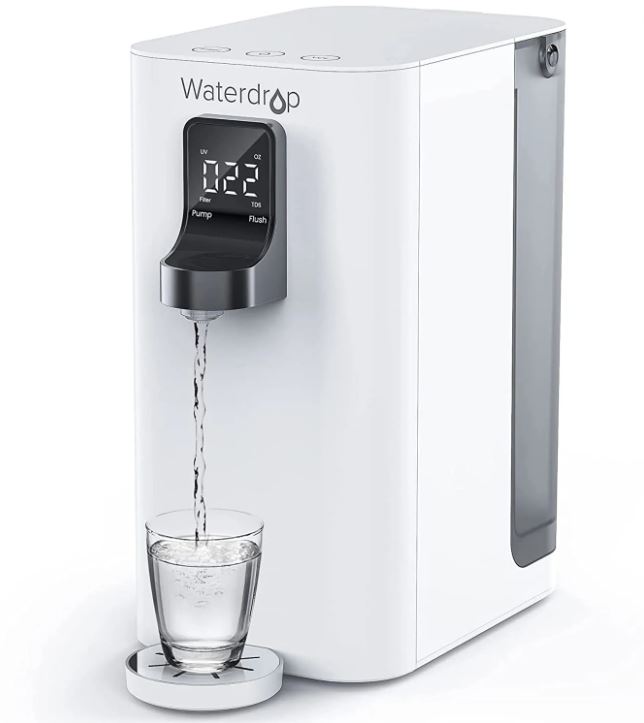 Waterdrop's countertop RO system features five stages of purification that can remove almost 99% of contaminants, including Glyphosate, from drinking water. This water filter pitcher comes up with reverse osmosis filtration system that ensures 99% removal of Glyphosate.
This unique RO uses four filtration stages combined with UV-sterilization to ensure pathogens, including bacteria and viruses are killed and removed from your drinking water.
Pros
Unique and eye-catching design
Portable and detachable pitcher
Quiet filtration process
Long-lasting
Meets NSF/ANSI 42, 53, 244, 401 & 473 standards
3. EXPRESS WATER UV Reverse Osmosis Water Filtration System
Using an eleven-stage filtration process, under-sink EXPRESS Water UV RO filtration (Amazon link) can remove 99% of impurities, including Glyphosate, from drinking water.
The reverse osmosis system removes glyphosates and other chemicals. Other filters include alkaline filters, activated carbon, and alkaline filter.
The most remarkable feature that would fascinate you is its leak-proof system that can help you detect excess water flow and shut off the valve, allowing you to avoid mess under your sink. 
With a water holding capacity of 4 gallons, this filter can clean 50 gallons of water per day. The alkaline filtration system allows this filter to retain essential nutrients such as magnesium, calcium, and potassium.
Pros
Perfect for large families
Leak proof system
Easy installation
Convenient filter replacement
4. iSpring 100GPD Under Sink Reverse Osmosis Filtration System
iSpring under sink RO system (Amazon link) features seven stages filtration system that can remove more than 1000 contaminants from water, including Glyphosate. The RO filters capture all the tiny contaminants, including Glyphosate, from water. The other filter system that contributes to water purification includes granular activated carbon, carbon block, post-carbon, alkaline filter, and UV lamp.
At the final filtration stage, an alkaline filter assures the right proportion of healthy minerals.
The filtered water capacity of this RO filter is 100 Gallons per day, which can meet the requirement of a large family.
Pros
Large capacity
Long-lasting
Easy installation
BPA free
Water Distillers
Water distillers are the devices that offer you clean water by removing 99.9% impurities, including Glyphosate. Here are some distillers that can remove Glyphosate from water.
1. Midi Classic Automatic Distiller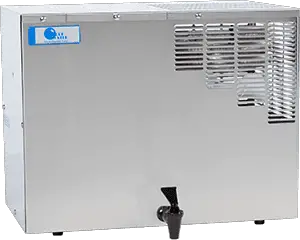 The Midi classic home water distiller offers a simple and easy operation to purify drinking water removing over 99.9% of Glyphosate. This automatic home distiller can store 5 gallons of water in the tank and produce 7 gallons of clean water daily.
The stainless-steel distiller has a demand pump that can transport water to three points of use.
Pros
Simple design
A perfect alternative to plastic bottles
Durable
Long-lasting
Easy to clean
Easy to operate
US-made
2. Megahome Countertop Water Distiller
The Megahome Countertop water distiller (Amazon link) purifies water by a simple process to remove 99.9% of water impurities, including Glyphosate. The distiller distils the water at 212oF, and the six high-quality charcoal filters capture contaminants.
This aesthetically pleasing distiller features a porcelain-lined nozzle and a glass collection bottle for purest drinking water.
The Megahome distiller can purify 1 gallon of water in five and a half hours. The distiller's water holding capacity is 4 liters. The distiller is manufactured using high-grade 304 stainless steel.
Pros
Intuitive Design
Easy to operate
UL listed
Single-use-plastic bottles alternate
3. Mophorn Countertop Water Distiller
The Mophorn countertop water distiller (Amazon link) can remove Glyphosate and other impurities from drinking water by heating the water to 302oF. It automatically shuts off when the temperature exceeds the limit.
A user can monitor the temperature on the LED display.
The food-grade stainless steel is used to make all the parts of this distiller. Moreover, a shock-absorbent and durable water container are made of glass. 
The water holding capacity is 1.1 gallons and can offer 0.34 gallons of distilled water in an hour. It means you can get about 8.24 gallons of water in a day.
Pros
Food grade stainless steel material
BPA free
FDA certified
Portable with a handle
Automatic shut-off for overheat protection
LED display for temperature monitoring
Shower Filters
Shower Filters typically feature Kinetic Degradation Fluxion (KDF) or vitamin C along with stainless steel mesh, and none of these filtration materials are known to remove Glyphosate from water.
However, some shower filters use activated carbon and can remove pesticides from water.
Aquabliss HD Multi-stage shower filter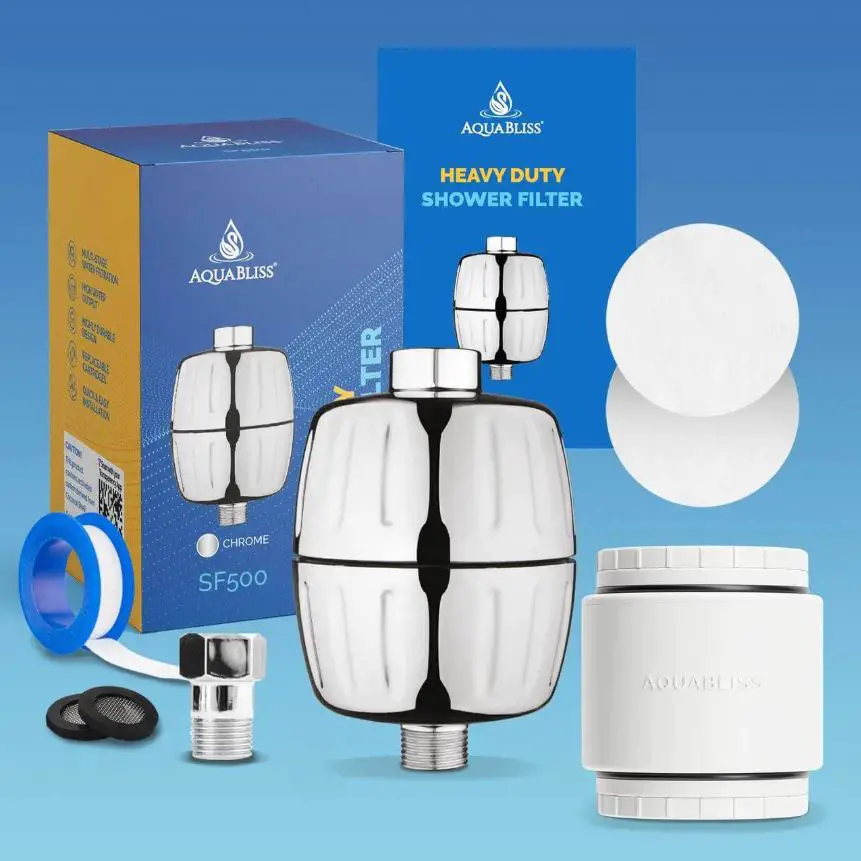 AquaBliss Heavy Duty Shower Filter SF500 uses calcium sulfite, granular activated carbon and redox media to significantly reduce contaminants from both hot and cold water.
This multistage filter relieves dry itchy skin, dandruff, and eczema.
Activated coconut shell carbon is very effective in removing a wide range of pollutants from shower water quickly and easily. Each filter cartridge lasts approximately 8 months.
Pros:
Multi-stage filtration
Stainless steel casing
Flow rate at 1.5GPM
Long lasting filter cartridges
Cons:
Does not eliminate sulfur smells.
Coolers
Coolers with reverse osmosis filtration systems can remove glyphosate from water.
1. Brio Commercial Reverse Osmosis Filter Water Cooler Dispenser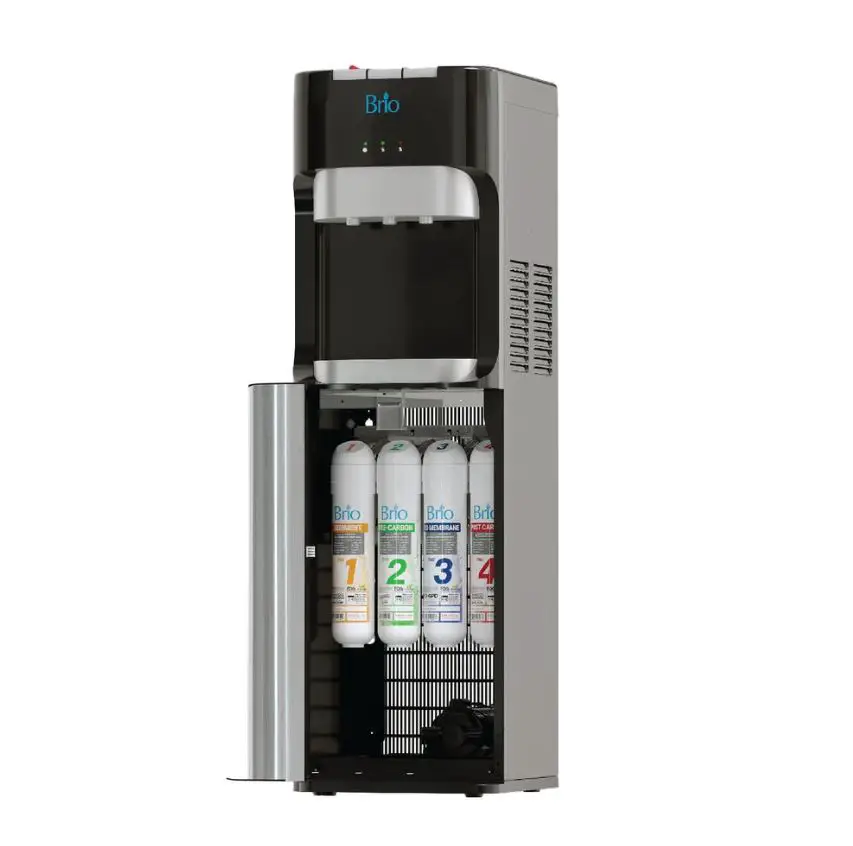 The Brio commercial reverse osmosis cooler features four stage filtration system comes with a high rejection RO membrane for efficient removal of glyphosate from water. The other filters include sediment filter, carbon block, and coconut carbon filter.
The self-cleaning feature via ozone makes this cooler a great and convenient water cooling and dispensing device. Large dispense point allows you to fill any sized cup or bottle conveniently.
This powerful cooler is made of premium quality 304 stainless steel. Adjustable water temperature makes it easy to switch between cold, room temperature and hot water by pushing a button.
Pros
Elegant design
Easy to maintain
Child lock
Removable drip tray
UL listed
Energy star approved
Conforms to NSF/ANSI 372
Frequently Asked Questions
How does glyphosate enter our water supply?
The US geological survey states that 70% of freshwater comes from surface-water sources, and the other 30 percent comes from groundwater. Surface water is primarily used for public supply (drinking water) and irrigation purposes and can become contaminated by glyphosate through the following processes:
1. Spray Drift
Herbicide or pesticide spray drift is the movement of pesticide droplets or dust through the air during or shortly after application to any site other than the target region. These herbicide droplets are produced through the spray nozzles that are a part of application equipment.
Spray drift can carry glyphosate molecules in the air to lakes, rivers and dams etc.
2. Rainwater Run Off
Glyphosate and other pesticides indirectly enter the water through rainwater runoff. The Glyphosate makes a strong bond with soil when applied to plants.
When rainwater rinses the soil, it removes the glyphosate, which can then mix with surface water and ultimately contaminating water resources, such as rivers and lakes.
If farmers manage to control the flow of the Glyphosate-carrying topsoil using techniques like vegetative buffer, they can prevent Glyphosate from entering drinking water at an early stage.
3. Direct Application to Reduce Aquatic Weeds
Aquatic weed control using glyphosate-based products is regarded as safe. However, any glyphosate-based aquatic herbicides must be mixed with a surfactant which makes it safe for aquatic life and acceptable for use in water. A slight imbalance in the ratio of glyphosate to other ingredients can cause it to leach directly into water, polluting the water supply.
It's important to note that glyphosate is unlikely to enter groundwater because it tightly binds to the soil particles when applied to the crops. The strong bonding of glyphosate with soil particles limits its mobility preventing it from seeping into ground water.
Soil microbes also readily degrade glyphosate – although, this process is limited in low oxygen conditions.
How Long does Glyphosate Stay in the Water?
Research shows that glyphosate can remain in water for 2 to 12 weeks. Glyphosate decays over time to aminomethylphosphonic acid (AMPA), which microbes can successfully degrade and is not considered harmful (unlike glyphosate).
Glyphosate takes between 3 days and 19 weeks for half of the active ingredient to degrade to AMPA.
Examples of Glyphosate Contamination in the USA
Detection of Glyphosate in Minnesota Waters
The Minnesota Department of Agriculture (MDA) routinely tests the presence of glyphosate in surface and groundwater. It is typically found in surface waters of both urban and rural areas at low concentrations. The highest levels of glyphosate were detected in surface water in 2016, when it reached 42.8 micrograms per liter (µg/L). No glyphosate was detected in the groundwater.
USGS Survey
U.S. Geological Survey (USGS) researchers examined 51 streams in nine Midwestern States to look for the presence of a variety of herbicide including glyphosate, in 2000. About 154 water samples were taken across nine Midwestern State and the results demonstrated that 36% of the samples contained glyphosate, while 69% samples contained its degradation product AMPA.
Does spring water have Glyphosate?
Spring water comes from aquifers, and underground water deposits are highly unlikely to be contaminated with glyphosate. Glyphosate typically binds to soil particles and does not migrate downwards through the soil profile to any large extent, and thus does not enter groundwater.
Does bottled water have Glyphosate?
Glyphosate may or may not be present in bottled water depending on the type of filter used to purify the water. The glyphosate will be removed from the bottled water if it is processed with reverse osmosis, nanofiltration, or distillation before bottling. Otherwise, glyphosate may be present.
Do Brita Filters Remove Glyphosate?
According to performance data of all Brita filters, they do not remove Glyphosate from water. Whether this is because Brita filters do not remove glyphosate, or have simply not been tested to determine its effectiveness, is unclear.
Do Berkey filters remove Glyphosate?
The black Berkey filter has the potential to remove Glyphosate effectively. These filters can remove up to 75% of Glyphosate from water.